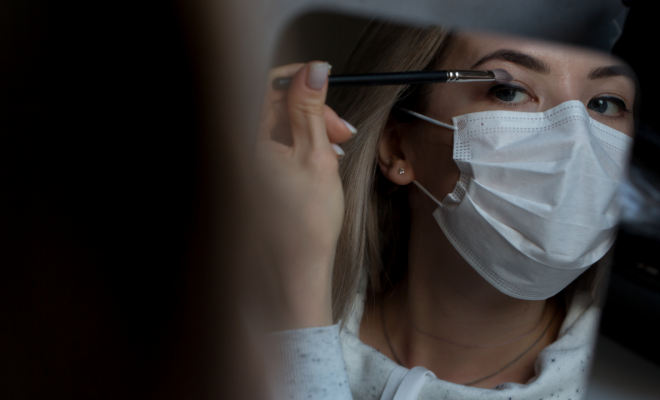 Makeup
How to Achieve Mask Proof Makeup
By |
Want to achieve mask proof makeup? Our new normal poses quite an issue for women who love makeup. All your hard work making your makeup beautiful rubs off in what feels like seconds after wearing a mask. If you're wondering how to keep your makeup in place under a mask, you aren't alone. Women have all but sworn off makeup in place for the mask that's saving lives.
Fortunately, you can have your cake and eat it too! Here are the top ways to achieve mask proof makeup to help your makeup stay put all day.
Use a Primer
Using oil-based makeup is the worst when you're wearing a mask. It's like an invitation for maskne (acne caused by masks) and for the mask to rub it right off your face, especially with the heat masks create.
Instead, start with a primer that helps your skin absorb the foundation rather than have it sit on top of your skin. Make sure the primer is oil-free, so it holds onto the foundation and doesn't let it slip away.
Finish with Powder
If you really want to seal the deal, follow up your liquid foundation with a powder foundation. This helps the foundation settle in and lowers the chances of the mask, rubbing it off. It also creates a second layer the mask has to go through to get to your foundation.
If a second foundation doesn't sit well with you, use a finishing powder to complete the look. Make sure the powder matches your skin tone, and let it sit for a few minutes (this is called baking). Its job is to soak up the oil, so your makeup stays put even when the moisture of your breathing with a mask on tries to threaten your makeup.
Use Cream and Powder Blush
Like your foundation, the cream blush sits on your skin, and the powder blush sets it into place. This is one of our favorite mask-wearing makeup tips. The cream blush can sit right at the apple of your cheeks and the powder just above it. This gives your cheeks color even behind the mask.
Choose a Waterproof Lipstick
No one can see your lips under your mask, but sometimes we don't feel complete without it. Plus, you have to take your mask off sometime, right?
Choose a waterproof lipstick and lip liner. Then either exfoliate your lips (we like to use coconut oil and sugar) or dab your lips with a loose powder after applying the lipstick. Just make sure your lipstick is 'stained' on your lips and not just sitting on top. 
Finish with a Setting Spray
The last step is to finish off your makeup with a setting spray. The setting spray helps to lock all your efforts in place. If you have dry skin, try using a hydrating setting spray, just be sure to let the spray dry before putting on a mask to prevent any risk of acne.
It's not as hard as it sounds to keep your makeup in place under a mask. You may need a few more products and a few more minutes to get ready in the morning, but your efforts will pay off, though. 
We all need more reasons to smile today – so taking those extra few minutes may be all it takes. Play with your makeup and see what makes your makeup stay. If you have excessively oily skin, it may take a bit of trial and error to figure things out.