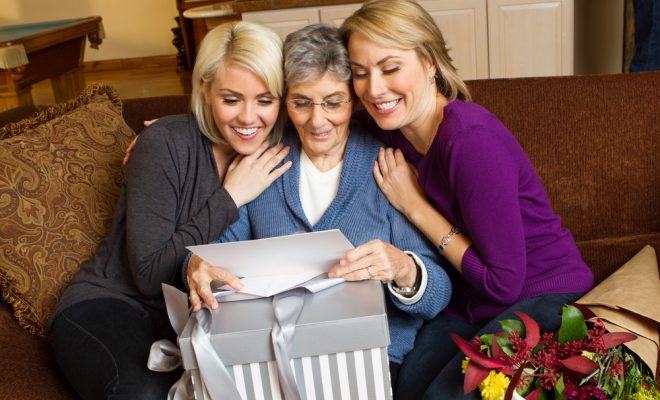 Your Brand Of Beauty
10 Marvelous Mother's Day Gifts For 2019
By |
Mother's day is fast approaching, and we all want to get or marvelous mother a gift that truly shows her our appreciation. If your mom is like mine, she probably told you the usual I don't need anything. But that is not an option, we have to get her something that matches the selfless care she bestows on us every day. So where do we start, well first we need to determine which type of mom yours is, then we can decide which gift will knock her socks off. If all else fails, we have 10 marvelous gifts for moms of every age.
First of all which type of mom do you have? Is she the chef mom, the interior designer mom, the entertainer mom, the gardener mom, the pet loving mom, the sporty mom, the philanthropist mom, the techie mom, the glamor mom, or the fix-it mom? Knowing your mom's true character will greatly improve your ability to narrow down that perfect gift. If your mom is one of the moms mentioned above, click the one that fits her best for some gifts specific to her. If not don't worry we got your back with our 10 mothers day gift ideas for your magnificent mom.
 1. Flowers
You can never go wrong with a classic bouquet of beautifully arranged flowers. Be sure to pick an arrangement that includes your mother's favorite flower in her favorite color. Another alternative would be to get her an edibles arrangement, the brightly colored fruit sculpted into the shape of flowers will surely catch her eye. If you have young children, encourage them to make their own bouquet out of construction paper to add some sentimental value to your gift.
2. A gift certificate for a spa treatment or massage
Every mom could use a little pampering why not try a gift certificate for a spa treatment or a message. It's back-breaking work being a mom, don't you know. If your mom doesn't like going to spas, you can always buy her a back massager, a face steamer, or some face masks so she can use them in the comfort of her home. For those of you who are on a budget, you can always make a coupon booklet for free back massages courtesy of you.
3. A nail appointment
My mom and I often get our nails done together; If you and your mom are best buddies, try booking a nail appointment for the two of you followed by a nice lunch. The pampering paired with the bonding time should make her feel relaxed. If money is tight, you can always treat her by painting her nails and making a nice homemade lunch.
4. Mother makeover
It always feels nice to get a new hair cut or a fresh new look, so why not get your mom a makeover. Many cosmetic stores offer makeovers, like Shoppers Drug Mart or Sephora. Your mom will feel fresh and recharged with a new look for mothers day. If you can't afford to pay for a makeover for your mom, give her one yourself. Invite her over and do her hair, makeup, and nails. She will leave looking and feeling positively beautiful.
5. A bath set
We know there has been a common theme in our gift ideas, but moms do a lot of work, and they need to recharge. Our next gift ideas is one that mom can enjoy on her own, getting her a nice bath set can give her that much needed quiet time. Find a bath set that has a variety of products (preferably in a scent she likes) to give her a luxurious soak in the tub. Bath sets can vary in price so for those of you on a budget try assembling your own basket of her favorite soaps and bath bombs.
6. Favorite perfume
Some moms like to wear different perfumes while others have that one signature scent. You can never go wrong buying your mom's favorite perfume. On the other hand, if your mom likes to try different scents, buy her one she has been eyeing. Again if you're on a budget and perfumes are out of your range, get your mom a body mist or maybe give up that perfume you have that she said she likes. It won't hurt to do something selfless for her.
7. Skin care products
Splurging on your mom's all-time favorite skin care product can really get you some brownie points. Just make sure you sneak a quick peek at the container or take a picture of it to ensure you are picking up the right one. Conversely, if you don't know which products she uses, check her makeup table or drawer for a gift idea. You can also buy your mom a product that she mentioned she wants to try.
8. Gift card for her favorite cosmetics company
For the makeup moms, a gift card for her usual cosmetics company is always a win. If your mom frequents stores like Sephora or Ulta, get her a gift card so she can buy whatever catches her eye (We know we wish someone would give us one too!). A gift like this allows her to get the product of her choice even if she doesn't have something specific in mind at the moment.
9. Make your own beauty basket
Another alternative would be to make your own basket of beauty products, specifically tailored to your mom's taste. This gift shows thoughtfulness and gives you the freedom to select the exact things she wants. Your basket can include her favorite sweets, teas/coffees, skincare products, hair care products, bath products, and more. You can also include sentimental items like a framed image of the two of you together.
10. Girls day out
Sometimes our financial situation doesn't always line up nicely with events like mothers day. We still want to do something nice for mom, but we can't afford to do much. Why not take her for a simple lunch or make her lunch and just spend the day together. No mother will refuse quality bonding time. Take her for a walk at the beach, look around in stores, whatever she wants to do, just spend time with her (it's free).
Hopefully, our gift ideas helped you find the perfect match for your mother. We know that most of our gift ideas have a pampering theme to them, that is because mother's work hard and they need a little R&R too. So if these gifts don't match your mom's needs click below on which type of mom you have for ideas that fit her.
Which type of mom do you have?
If none of these best describe your amazing mom check out some of the other Mother's Day deals we've rounded up for you here.
Regardless of which type of mom you have, we've made it easy for anyone to find the perfect gift for Mother's Day this year!
To all of you wonderful moms out there we wish you a happy, relaxing, and loving Mother's Day!