YBB Monthly Favorites
YBB Favorites For July 2019
By |
Hey, beauties we're back with our favorite beauty products for the month of July. For our July YBB monthly faves, we tested Clinique's Smart Custom-Repair Night Cream, Stila's Stay All Day Waterproof Liquid Eyeliner, Buxom's Full-On Lip Cream, and Sephora's Matte Perfection Powder Foundation – here is our take.
---
Clinique – Smart Night Custom-Repair Moisturizer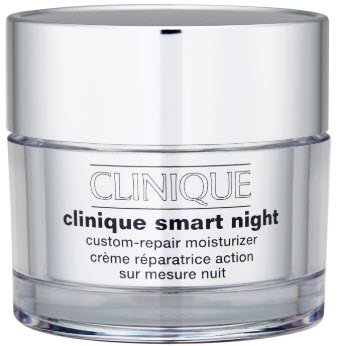 Retail Pricing: $58.00 (US), $77.00 (CA)
Where to buy: Sephora, Shoppers Drug Mart
Clinique's smart custom-repair night moisturizer is designed to target all signs of aging. Its oil-free formula is designed to boost your skins hydration by helping your skin attract and retain moisture while also strengthening your skins natural barrier. Clinique's smart night cream targets and smooths out fine lines, and wrinkles while brightening and firming your skin. It is designed for people with dry to very dry, mature skin. It contains no fragrances, parabens, sulfates, phthalates, mineral oils, oils, talc, SLS, or alcohols. The moisturizer is non-acnegenic and allergy tested, for people with sensitive skin. The product comes in a 1.7 oz./ 50 ml jar.
Here's Moira's YBB Rating for use on dry to very dry skin 
As someone who struggles with dry skin, I know it can be a challenge to find a moisturizer that actually keeps your skin hydrated all day. I decided to give Clinique's smart custom-repair night moisturizer a try because I know they have great products. The consistency of the moisturizer is quite thick and creamy. When applied, it leaves your skin feeling very hydrated but not greasy. Your skin feels hydrated all day long. I applied the moisturizer in the morning around 8, and my skin still felt hydrated at 11 PM. This moisturizer is definitely intended for people with dry or very dry skin. In terms of the scent, I wasn't wild about the smell, while it is unscented, it does have a chemical like scent to it. As much as I loved this moisturizer, I will probably look for something more affordable once it runs out.
Consistency: Thick, creamy consistency
Scent: Slight chemical smell
Hydration: Extremely hydrating
Long-lasting: Hydration lasts all-day
Value: Pricey, for the amount of product 
Skin Types: Dry to very dry skin types
Worked as expected: Better than expected
Pros: Extremely hydrating, hydration lasts all day, great for very dry skin
Cons: Pricey, not very much product, not wild about the smell
YBB Rating 4 out of 5
---