YBB Monthly Favorites
YBB Favorites For July 2019
By |
Hey, beauties we're back with our favorite beauty products for the month of July. For our July YBB monthly faves, we tested Clinique's Smart Custom-Repair Night Cream, Stila's Stay All Day Waterproof Liquid Eyeliner, Buxom's Full-On Lip Cream, and Sephora's Matte Perfection Powder Foundation – here is our take.
---
Clinique – Smart Night Custom-Repair Moisturizer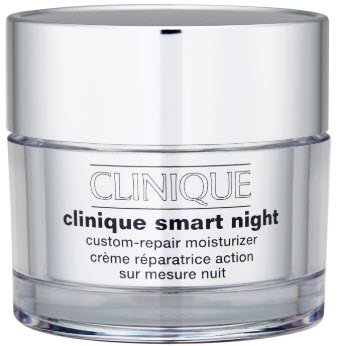 Retail Pricing: $58.00 (US), $77.00 (CA)
Where to buy: Sephora, Shoppers Drug Mart
Clinique's smart custom-repair night moisturizer is designed to target all signs of aging. Its oil-free formula is designed to boost your skins hydration by helping your skin attract and retain moisture while also strengthening your skins natural barrier. Clinique's smart night cream targets and smooths out fine lines, and wrinkles while brightening and firming your skin. It is designed for people with dry to very dry, mature skin. It contains no fragrances, parabens, sulfates, phthalates, mineral oils, oils, talc, SLS, or alcohols. The moisturizer is non-acnegenic and allergy tested, for people with sensitive skin. The product comes in a 1.7 oz./ 50 ml jar.
Here's Moira's YBB Rating for use on dry to very dry skin 
As someone who struggles with dry skin, I know it can be a challenge to find a moisturizer that actually keeps your skin hydrated all day. I decided to give Clinique's smart custom-repair night moisturizer a try because I know they have great products. The consistency of the moisturizer is quite thick and creamy. When applied, it leaves your skin feeling very hydrated but not greasy. Your skin feels hydrated all day long. I applied the moisturizer in the morning around 8, and my skin still felt hydrated at 11 PM. This moisturizer is definitely intended for people with dry or very dry skin. In terms of the scent, I wasn't wild about the smell, while it is unscented, it does have a chemical like scent to it. As much as I loved this moisturizer, I will probably look for something more affordable once it runs out.
Consistency: Thick, creamy consistency
Scent: Slight chemical smell
Hydration: Extremely hydrating
Long-lasting: Hydration lasts all-day
Value: Pricey, for the amount of product 
Skin Types: Dry to very dry skin types
Worked as expected: Better than expected
Pros: Extremely hydrating, hydration lasts all day, great for very dry skin
Cons: Pricey, not very much product, not wild about the smell
YBB Rating 4 out of 5
---
Stila – Stay All Day Waterproof  Liquid Eyeliner

Retail Pricing: $22.00 (US), $29.00 (CA)
Where to buy: Sephora, Shoppers Drug Mart
Stila's Stay All Day Waterproof Liquid Eyeliner comes in a felt tip pen, with a fine point tip for precision application. It comes in both a regular fine tip and a microtip as well as eight different colors. The pen contains 0.016 oz./ 0.5 ml of product. This eyeliner is designed to give you smooth application and precise, bold lines that won't budge all day. The fast-drying formula prevents it from feathering or running.
Just like it says in the name Stila's stay all day eyeliner really does stay all day, and it looks just as good as it does in the morning. The formula is thin and lightweight, so it feels like you're wearing nothing. The felt tip applicator glides across your eyelid without tugging for smooth application. The fine pointed tip gives you great precision for winged eyeliner looks. This eyeliner has incredible color payoff, you get an intense black line every time. It dries to a satin finish, but it isn't shiny. It doesn't feather at all or run and it dries very quickly. Removing this eyeliner is a breeze with a makeup wipe. This has been my favorite eyeliner for the 6-8 months, I'm currently on my third eyeliner.
Consistency: Light-weight consistency
Application: Smooth application, glides on without tugging
Pigmentation: Highly pigmented
Finish: Satin finish
Long-lasting: Lasts all-day (12-hours)
Worked as expected: Better than expected 
Pros: Wears all day, fairly easy to take off, very pigmented
Cons: None

YBB Rating 5 out of 5
---
Buxom – Full-On Plumping Lip Cream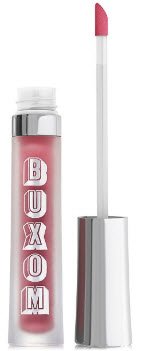 Retail Pricing: $21.00 (US), $28.00 (CA)
Where to buy: Sephora, Ulta, Amazon
Buxom's Full-On Polish Lip Cream is a plumping gloss that contains peptides and hyaluronic acid to plump and hydrate lips, creating the appearance of fuller lips. This gloss has a sheer cream color with high shine and no shimmer. It is formulated with vitamin A and E to keep lips hydrated and soft. Once applied, it gives a cooling tingling sensation. The formula contains no parabens, sulfates, or phthalates. The product comes in a 0.14 oz./4.45 ml tube with a doe-foot applicator. Buxom's full-on plumping lip cream is available in 22 shades named after a variety of tasty drinks.
If you're looking for a versatile plumping gloss, then you should try Buxom's plumping lip gloss. One of the great things about this plumping gloss is that it doesn't have an unpleasant stinging sensation, it's more like a tingling sensation. Buxom's lip cream does give you a pumping effect, that last for a couple of hours. The sticky and thicker consistency of this gloss helps it stay on for a very long time. I find when I use this gloss, my lips feel hydrated, and I feel that it lasts for quite a long time even when I eat and drink. It has a nice light vanilla scent, and it gives you a beautiful sheer color that can be worn alone or over top of a lipstick. I actually discovered this gloss when I got a sample from Sephora, I ended up loving it so much that I bought the full-size gloss and several other colors as well. I definitely recommend this gloss if you're looking for a lip plumper that doesn't have an intense plumping sensation.
Consistency: Thick, sticky consistency
Scent: Light vanilla scent
Color Payoff: Sheer wash of color
Hydration: Very hydrating
Plumping: Yes, effects last for a couple of hours
Long-lasting: Yes, stays on for three-quarters of the day
Worked as expected: Yes
Pros: Provides high shine, hydrating, and plumping
Cons: Plumping effect only lasts for about 2 hours
YBB Rating 4.5 out of 5
---
Sephora Collection – Matte Perfection Powder Foundation
Retail Pricing: $20.00 (US), $26.50 (CA)
Where to buy: Sephora
Sephora's Matte Perfection Powder Foundation is a lightweight, creamy powder foundation that provides medium coverage that is buildable. It is a pressed powder that provides a natural matte finish, great for people with combination to oily skin. The powder is formulated with FlexMatte technology to give you a comfortable wear that moves with your skin, without cracking or caking. It comes in a sleek black compact, with a mirror and a circular sponge for application. The compact contains 0.26 oz/ 7.5 g of product and its available in 35 shades.
Sephora's matte perfection powder foundation is a great day-to-day foundation that you can wear when you're running your errands. The lightweight formula has a comfortable feel. It makes your skin look naturally beautiful like you're not wearing any makeup at all. I love the finish of this foundation because it gives your skin a nice matte look without looking dry. If you have combination to oily skin like me then you know it can be difficult to find a light foundation that will combat the oils without clogging your pores. If you want the best results out of this foundation, I suggest using a primer and a setting spray to make it last all day and prevent any transfer. Without a primer and setting spray it does transfer a bit. I definitely recommend buying this foundation; it is my go-to foundation for everyday purposes.
Texture: Smooth, creamy texture
Finish: Matte finish
Long-lasting: Lasts most of the day, lasts even longer with primer
Transfer: A little, ideal to use a primer and setting spray
Skin Types: Combination to oily
Worked as expected: Better than expected
Pros: Provides natural matte finish, makes skin look naturally beautiful
Cons: Some transfer if not worn with a primer and setting powder
YBB Rating 4.5 out of 5
Well, that's another wrap for our July YBB Favorites, also check out our June YBB Favorites. Check back near the end of next month for our next list. If you want to share your experience with these products, add your comments below. Also, if you want us to review any other products, just drop us a note in the comments below or on our contact page, we'd love to help you find Your Brand Of Beauty!!