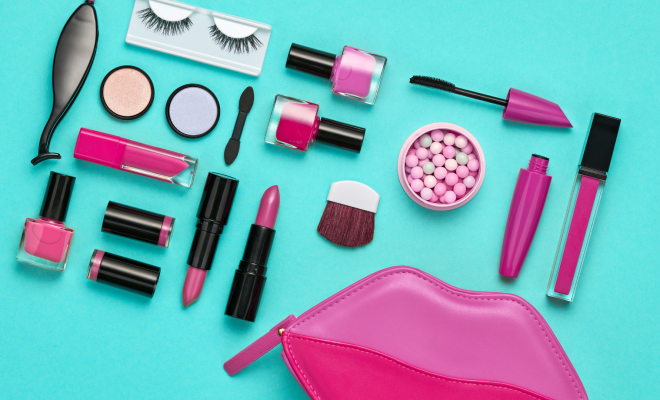 YBB Monthly Favorites
YBB Monthly Favorites For August 2019
By |
Huda Beauty – Resting Boss Face Waterproof Setting Spray

Retail Pricing: $33.00 (US), $43.00 (CA)
Where to buy: Sephora, Huda Beauty, 
The Huda Beauty resting boss face setting spray is a matte, waterproof setting spray with extra-hold. It has a floral scent and unmatched staying power. The spray comes in a black metal canister that contains 3.38fl.oz./100ml of product. 
Here's Moira's YBB Rating for mature, dry skin 
If you're looking for a setting spray that will make your makeup last all day, then Huda Beauty's resting boss face spray is the one for you. If you're someone that struggles with dry skin, then this may not be the best setting spray for you. Let's start with the positives, it does a fantastic job of keeping your makeup in place all day. The downside, it does have a drying effect, I found that it makes my skin feel drier and it makes my under-eye concealers cake a bit. The one major downside is the scent, it has a potent old school floral scent that smells like something my grandmother would wear. If you are sensitive to fragrances or you have mature or dry skin, I don't recommend this setting spray. 
Finish: Matte finish
Scent: Potent old school floral scent
Feel: A bit drying
Transfer: No transfer
Lasting power: Very long-lasting
Worked as expected: Somewhat
Pros: Keeps makeup in place all-day
Cons: Very strong smell, old school scent, not good for dry or sensitive skin
YBB Rating 4 out of 5
Here's Natassia's YBB Rating for oily skin
Huda Beauty's setting spray is by far the best setting spray I have ever used. Your makeup will stay on all day, no matter how hot the weather is. I tested out the longevity of the spray on a hot summer day from 8 in the morning till 9:30 at night and my makeup still looked great. This setting spray will even make a powder foundation last all day without transferring. I love that it comes in a metal can because you get a light mist when you spray it rather than bigger droplets of product. It gives you a perfect matte finish, which I like because I have oily skin. There are two downsides to this product, it does have a very strong floral scent, which might be a problem for people that are sensitive to fragrances. The second downside is that it does contain two strong alcohols, that can dry out your skin, this may be an issue for people with dry or sensitive skin.
Finish: Matte finish
Scent: Strong floral scent
Feel: Comfortable, a bit drying
Transfer: Zero transfer
Lasting power: Makeup looks perfect all-day
Worked as expected: Better than expected
Pros: Really prolongs the wear of any makeup no matter what the weather is like
Cons: Very strong floral scent, can be a bit drying (not good for dry skin types)
YBB Rating 4.5 out of 5
---