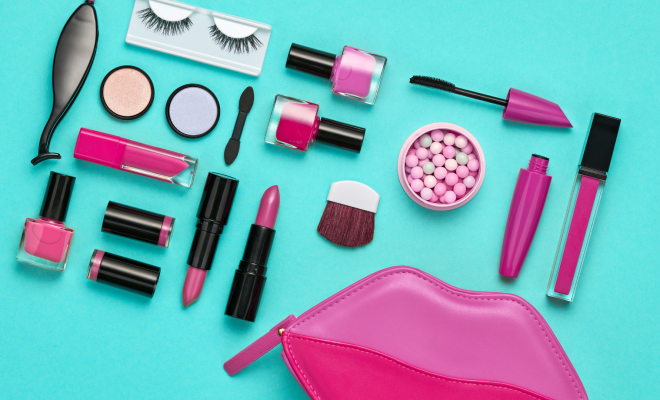 YBB Monthly Favorites
YBB Monthly Favorites For August 2019
By |
Hey, beauties we're back with our favorite beauty products for August. For our August YBB monthly favorites, we tested the GlamGlow Instamud 60-Second Pore-refining Mask,  Huda Beauty Resting Boss Face Waterproof Setting Spray, Dickinson Enhanced Witch Hazel Hydrating Toner, and the Ace Beaute Glimmer Eyeshadow Duo – here is our take.
---
GlamGlow – Instamud 60-Second Pore-refining Mask

Retail Pricing: $42.00 (US), $55.00 (CA)
Where to buy: Sephora, Shoppers Drug Mart, Amazon, GlamGlow
GlamGlow's Instamud 60-Second Pore-refining Mask is a foaming clay treatment that instantly activates when it comes in contact with your face. It's designed to reduce uneven texture and skin tones, eliminate dullness, refine pores, and detoxify your skin. The lavender-colored formula contains a variety of botanicals such as aloe vera, witch hazel, apple extract, licorice root, bentonite, and kaolin clays to enhance the appearance of your skin and leaving your skin feeling invigorated. The product comes in a yellow pump, that contains 1.7 oz./50g of product. 
Here's Moira's YBB Rating for mature, dry skin
I received a sample of the GlamGlow Instamud from Sephora this month. I was really hoping it would help refine my pores, but I didn't really notice any major difference after several uses. The instamud mask has a smooth application and when applied it has a tingling and cooling effect. It has a light minty sensation that is not too strong and a bright purple hue. In terms of the results, I noticed that my skin felt smoother ad slightly brighter. My daughter has the full-sized product and I did notice that the container is a bit small for the price, so I'm not sure if it is really a great value overall.
Feel: Smooth application, tingling and cooling sensation
Scent: Light minty scent
Results: Face felt refreshed and invigorated
Value: Could get more product for the price
Worked as expected: Somewhat
Pros: Face felt refreshed, skin felt smooth
Cons: Pricey for the amount of product
YBB Rating 4 out of 5
Here's Natassia's YBB Rating for oily skin
I received the GlamGlow Instamud Mask as a bonus gift for signing on with boxycharm last month. So far, it is my favorite face mask. It has a bright purple color and a sweet mint scent that is not overpowering. When you pump the mask out of the bottle, it has a creamy consistency, but once applied to your face, it has a foaming bubbly consistency. A little goes a long way because it foams quite a bit. Once it begins to leather, you'll start to feel a tingling sensation. I found that it did refine my pores a bit, and my skin did look brighter. The only downside is the pump is a bit small for the price, but again a little goes a long way.
Feel: Tingling sensation once applied
Scent: Sweet mint scent, not strong
Results: Refines pores, brightens skin, evens skin texture
Value: Decent value for the price
Worked as expected: Yes
Pros: Refines pores, smooths skins texture, brightens skin
Cons: A bit pricey for the amount of product you receive
YBB Rating 4 out of 5 
---