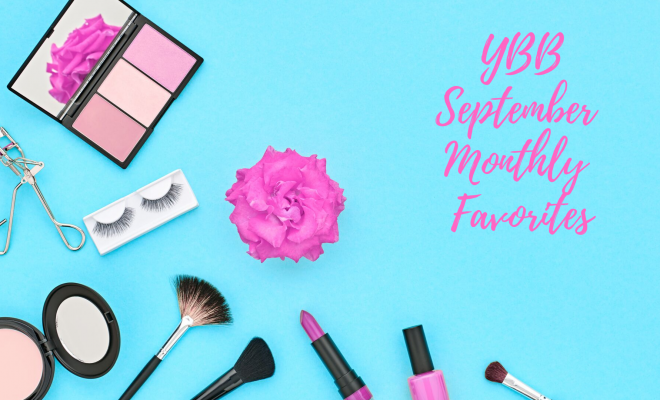 Eyes
YBB Favorites For September 2019
By |
Hey, beauties we're back with our favorite beauty products for the month of September. For our September YBB monthly faves, we tested Kat Von D's Tattoo Eyeliner, Lime Crime's Velvetine Liquid Lipsticks, the Sunday Riley Tidal Brightening Enzyme Water Cream, and Wander's Glow Ahead Illuminating Face Oil  – here is our take.
---
Kat Von D – Tattoo Eyeliner 

Retail Pricing: $20.00 (US), $26.50 (CA)
Where to buy: Amazon, Sephora, Ulta
The Kat Von D tattoo eyeliner is an intense, highly-pigmented eyeliner pen that won't smudge. The long-lasting formula is waterproof, vegan and animal cruelty-free. The pinnacle of this eyeliner is its ultra-precise tip, made with synthetic hairs to allow for smooth application and perfectly thin lines, great for winged eyeliner looks. It is available in two colors black (Trooper Black) and chocolate brown (Max Max Brown). The pen contains 0.019 oz/ 0.55 ml of product.
Kat Von D 's tattoo eyeliner is by far the best liquid eyeliner pen I've ever used. It is extremely pigmented and gives you intense color payoff. The precision tip gives you ultra-thin lines and makes it so easy to get a sharp winged eyeliner look. The application of this eyeliner is so smooth it is great for makeup enthusiasts of all skill levels. During application there is zero tugging or skipping on the eyelid, which makes for a perfect line. I tested the eyeliner for a 10-hour day, by the end of the evening there was no smudging and the eyeliner looked exactly the same as when I applied it. The tattoo eyeliner has officially become my new favorite, I highly recommend trying this eyeliner.
Intensity: Highly pigmented, intense color payoff
Finish: Satin
Application: Extremely smooth application, glides on with zero tugging or skipping
Lasting power: Very long-lasting, (10-hour wear test)
Worked as expected: Better than expected
Pros: Intense color, long-lasting, smooth and easy application
Cons: None
YBB Rating 5 out of 5
---