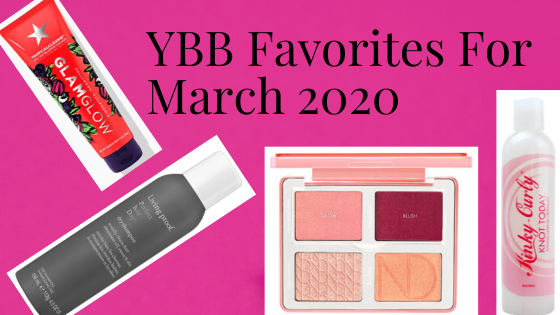 YBB Monthly Favorites
YBB Favorites For March 2020
By |
---
Natasha Denona – Bloom Blush & Glow Palette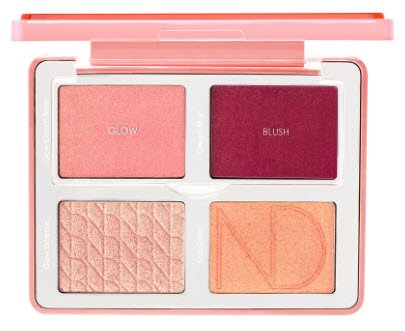 Retail Pricing: $55 (US), $73 (CA)
Where to buy: Natasha Denona, Sephora
The Natasha Denona bloom blush and glow palette is a blush and highlighter palette that features two blushes and two highlighters. The blush and glow palette features a cream blush and highlighter and a powder blush and highlighter. The formula of this palette is designed to be lightweight and hydrating; as an added bonus, they are cruelty-free. The Natasha Denona palette comes in a square coral compact, and it is quite sizeable, containing 0.42 oz/ 12 g of product. 
Here's Moira's YBB Rating for mature, dry skin 
I received the Natasha Denona bloom blush and glow palette in a Boxycharm box. I have to say I was surprised at how much I ended up liking this palette. The colors in this palette are beautiful and would work with any skin tone. The formula is amazing, it's lightweight, and it blends out beautifully with no harsh lines. The colors have medium pigmentation, and they last all day with minimal to zero transfer. The bloom blush and glow palette versatile which makes it perfect for travel, you could easily pack just this palette and use it for your eyes and cheeks. While the palette is a bit pricey, the formula is amazing, and the palette is quite large, so you get plenty of product for the price. I will definitely replace this product when it runs out.
Feel: Super light feel, like your wearing nothing
Scent: No scent
Finish: Shimmer finishes
Pigmentation: Medium pigmentation
Blendability: Blends easily, no harsh lines
Skin tones: Would work for all skin tones
Longevity: Wears all-day 
Transfer: Little to no transfer
Value: A bit pricey, but the palette is quite sizable
Worked as expected: Better than expected
Pros: Versatile, amazing formula, colors work for all skin tones
Cons: A bit pricey

YBB Rating 5 out of 5
Here's Natassia's YBB Rating for youthful, combination oily skin
I received the Natasha Denona bloom and glow palette in a previous Boxycharm box. It has a beautiful selection of colors that would compliment any skin tone. The formula blends seamlessly, which prevents any harsh lines or patchy spots. In terms of application, the pigmentation is a medium level color payoff, with a gorgeous light shimmer finish. I wore the blush and highlighter for a 12-hour day, and I could still see the colors just as vividly as when I applied them. I didn't notice any transfer throughout the day either. I will admit that when I saw the price of the palette, I was a bit shocked, but I will mention that the palette is quite large and you get a lot of product. If you're on a budget, I wouldn't recommend purchasing this palette, but if you don't mind splurging on a luxurious palette, go for it.
Feel: Lightweight, hydrating
Scent: No scent
Finish: Shimmer finish
Pigmentation: Medium pigmentation
Blendability: Blends seamlessly
Skin tones: Perfect for all skin tones
Longevity: Lasts all day, especially with a setting spray
Transfer: Very little transfer, no transfer with setting spray 
Value: Decent value, a large palette for the price
Worked as expected: Better than expected
Pros: Versatile palette, blend seamlessly, colors would work great on all skin tones
Cons: Pricey
YBB Rating 4.5 out of 5