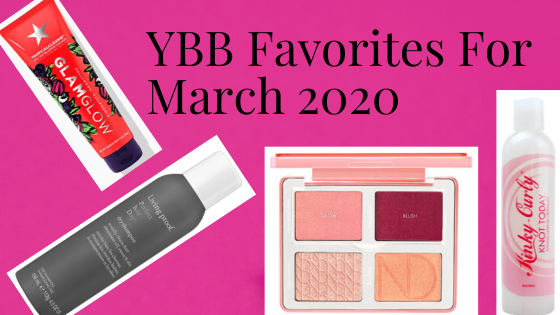 YBB Monthly Favorites
YBB Favorites For March 2020
By |
Hey, beauties, we're back with our favorite beauty products for the month of March. For our March YBB monthly faves, we tested the GlamGlow Tropicalcleanse Daily Exfoliating Cleanser, Natasha Denona Bloom Blush & Glow Palette, Kinky Curly Knot Today Leave-In Conditioner, and the Living Proof Perfect Hair Day Dry Shampoo – here is our take.
---
GlamGlow – Tropicalcleanse – Daily Exfoliating Cleanser

Retail Pricing: $34 (US), $45 (CA)
Where to buy: GlamGlow, Sephora, Shoppers Drug Mart, Amazon
The GlamGlow Tropicalcleanse daily exfoliating cleanser has a gentle formula that buffs the skin to remove impurities and leave the skin looking smooth. This exfoliator is so gentle it can be used daily. Formulated with fruit extracts, fruit enzymes, and pomegranate seeds. The formula also contains purple clay, green tea, goji berries, acai berries, and acerola to smooth your complexion and hydrate your skin. This vegan formula is free of parabens, formaldehyde, phthalates, and silicones, making it perfect for all skin types. The exfoliator comes in a red squeeze tube that contains 5 oz/ 150 g of product.
Here's Moira's YBB Rating for mature, dry skin
If you're looking for a gentle exfoliator that you can use frequently without irritating your skin, I would definitely try the GlamGlow Tropiccleanse daily exfoliating cleanser. The exfoliator has a creamy medium to thick consistency, with beads that are fine enough not to irritate your skin. I'm not a fan of exfoliators that have large granules or that feel gritty, but this exfoliator is perfect for daily use. The cleanser has a light floral, almost tropical scent, that is not strong in case you are sensitive to fragrances. The GlamGlow exfoliator makes my face feel incredibly smooth and soft, even for someone with mature, dry skin. I think this exfoliator is great for all skin types. In my opinion, this exfoliator is a great value because you received a lot of product in the tube and a little goes a long way.
Consistency: Medium to thick Consistency
Scent: Light floral and tropical scent
Feel: Creamy feel, with fine beads, not gritty
Results: Face feels smooth, soft, and hydrated
Skin types: Good for all skin types
Value: Great value
Worked as expected: Better than expected
Pros: Fine beads, skin feels very smooth, great value for the price
Cons: None

YBB Rating 5 out of 5
Here's Natassia's YBB Rating for youthful, combination oily skin
If you struggle with combination skin or dry skin, then you should try the GlamGlow Tropiccleanse daily exfoliating cleanser. The creamy consistency of the exfoliator leaves your skin feeling hydrated, while the fine beads gently scrub all the dry spots on your face leaving it feeling touchably soft. If you're like me and you don't like exfoliators that have coarse or larger granules, then you will definitely appreciate how gentle the beads in this exfoliator are. I would definitely say this cleanser would work for all skin types. It has a sweet tropical scent, and for the price, you get quite a large tube a product. I definitely recommend trying the GlamGlow Tropiccleanse exfoliator.
Consistency: Medium consistency
Scent: Sweet tropical scent
Feel: Gentle, creamy feel, with fine beads that don't irritate the skin
Results: Face feels smooth and hydrated
Skin types: Works for all skin types
Value: Good value, you get plenty of product
Worked as expected: Better than expected
Pros: Skin feels smooth and hydrated, gentle enough to use daily
Cons: None

YBB Rating 5 out of 5