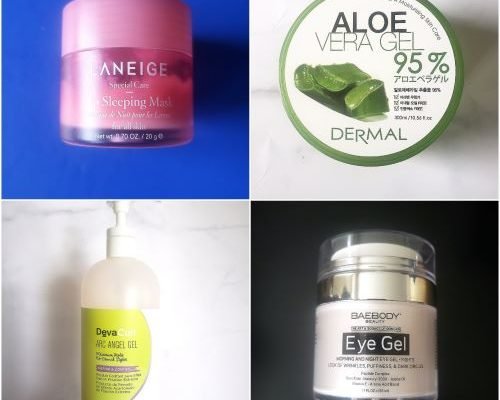 YBB Monthly Favorites
YBB Favorites For June 2019
By |
Hey, beauties we're sharing our June YBB faves with you and letting you know if we think each product works on different skin types, as well as if each of them meets the needs of the under 30 and over 30 crowds (as applicable).
Let's get started!
For our June YBB monthly favorites, we tested the lip sleeping mask by Laneige, Dermal's aloe vera gel, DevaCurl's arc angel gel, and Bae Body's eye gel – here is our take.
---
Laneige – Lip Sleeping Mask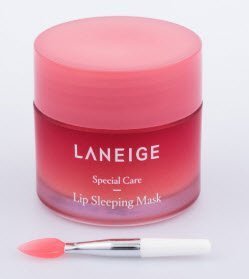 Retail Pricing: $20.00 (US), $26.00 (CA)
Where to buy: Laneige, Sephora
Laneige's lip sleeping mask is an overnight lip treatment that is designed to moisturize and smooth lips. This mask-like balm is enriched with vitamin C and antioxidants to soften the texture of lips. It is designed for fast absorption to create a protective barrier over the lips and lock in moisture with the use of hyaluronic acid. Its active ingredients include a berry complex mix of raspberry, strawberry, cranberry, and blueberry extracts to lock in moisture. The lip sleeping mask comes in a 0.7 ounce, plastic jar. It is available in four scents original (the one that smells like strawberries), vanilla, apple lime, and grapefruit.
Here's Moira's YBB Rating for use on dry to very dry skin
Laneige's lip sleeping mask has a beautiful creamy texture that is not tacky or sticky. It smells just like strawberries, but it is not strong, and the scent doesn't last for too long. I apply it in the evening, and by the morning time, my lips feel very hydrated. The hydration usually lasts for most of the day, and sometimes I like to use it as a touch-up during the day. It doesn't leave a residue, and it feels so lightweight it almost doesn't feel like you're wearing anything at all. You get quite a bit of product for the price, and you don't need to apply much, so it really lasts quite a while. Laneige's lip mask is a great value for the price, and I would definitely buy it again.
Texture: Creamy, not sticky
Scent: Light strawberry smell
Hydration: Very hydrating 
Long lasting: Yes, when used regularly 
Worked as expected: Yes
Pros: Makes lips very soft, not tacky or sticky, lightweight 
Cons: None

YBB Rating 5 out of 5
Here's Natassia's YBB Rating for use on combination to oily skin
Dry lips can be frustrating and can make any lipstick look subpar. If you're like me, a liquid lipstick junkie then a hydrating lip balm is a must. I received Laneige's lip sleeping mask for Christmas from my mom. At first, I was a bit skeptical that it would be as good as she said because the consistency wasn't very thick, but boy was I wrong. It has a creamy and slightly slick consistency, but it does leave your lips feeling buttery soft by the morning time. I typically notice that my lips feel hydrated for a good chunk of the day if not all day. It smells amazing like strawberries and makes my lips lipstick ready the next day. It is designed for application at night, but you can also apply during the day as well. You get plenty of product for the price, so I think it is a great value.
Texture: Creamy, slightly slick
Scent: Strawberry scent 
Hydration: Lips feel buttery soft in the morning 
Long-lasting: Yes
Worked as expected: Yes 
Pros: Buttery soft lips, smells amazing, not sticky
Cons: None

YBB Rating 5 out of 5
---