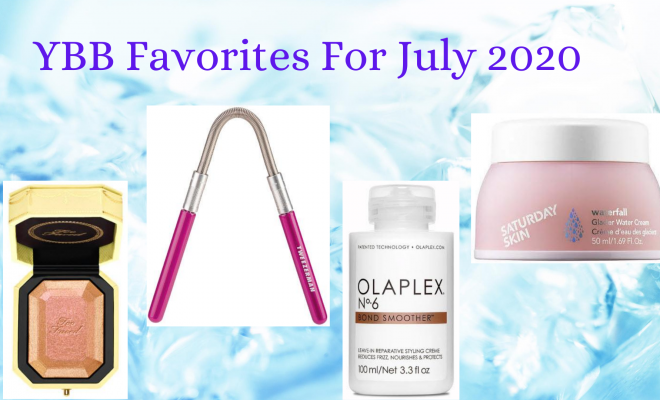 YBB Monthly Favorites
YBB Favorites For July 2020
By |
Hey, beauties, we're back with our favorite beauty products for the month of July. For our July YBB monthly faves, we tested the Saturday Skin Waterfall Glacier Water Cream, the Olaplex No.6 Bond Smoother Reparative Styling Crème, the Tweezerman Smooth Finish Facial Hair Remover, and the Too Faced Diamond Light Highlighter – here is our take.
---
Saturday Skin – Waterfall Glacier Water Cream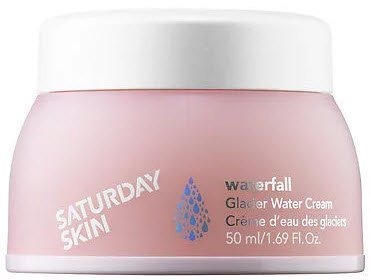 Retail Pricing: $39.00 (US), $51.00 (CA)
Where to buy: Saturday Skin, Sephora, Ulta
The Saturday Skin Waterfall Glacier Water Cream is a lightweight gel-cream enriched with antioxidants and minerals to hydrate and brighten the skin. The glacier water cream is designed to drench skin in hydration, leaving it looking and feeling more supple. Formulated with Alaskan glacier water to prompt fast absorption of moisture and protect skin from free radicals. The formula also contains xpertmoisture and Iceland moss to reduce the appearance of redness and prevent skin from getting dehydrated. Saturday Skin's Glacier water cream comes in a pink plastic jar that contains 1.69 oz / 50ml of product.
Here's Moira's YBB Rating for dry skin
The Saturday Skin Glacier Water cream has become one of my new favorite moisturizers. It has a gel-like cream consistency that glides on and leaves your skin looking and feeling dewy. The glacier water cream has a cooling sensation that soothes your skin upon application. It has a non-greasy feel that leaves your skin feeling slightly tacky to the touch. The tackiness and hydration last for about 6 – 8 hours. The glacier water cream has a very light, fresh scent that dissipates quickly, and it is water-based, which makes it great for all skin types. Since a little goes a long way and the moisturizer works so well, I would say that the glacier water cream is great value for the price.
Consistency: Gel to cream-like consistency
Scent: Very light fresh scent
Feel: Skin feels cool and refreshed
Results: Skin feels tacky, hydrated and looks dewy for hours
Longevity: Hydrates for 6 – 8 hours
Skin types: All skin types
Value: Great value for the price
Worked as expected: Better than expected 
Pros: Skin looks a feels tacky, dewy, and hydrated for most of the day
Cons: None

YBB Rating 5 out of 5