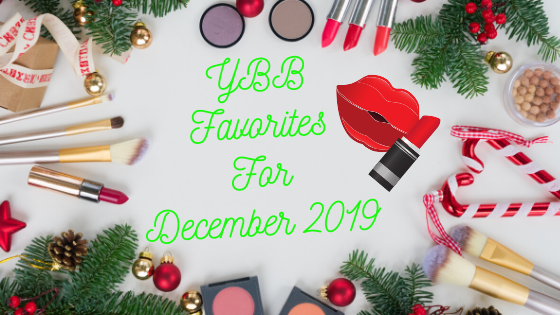 YBB Monthly Favorites
YBB Favorites For December 2019
By |
Hey, beauties, we're back with our favorite beauty products for the month of December. For our December YBB monthly faves, we tested the Juice Beauty stem cellular anti-wrinkle eye treatment, SheaMoisture Jamaican black castor oil strengthen & restore shampoo, DevaCurl  Supercream coconut curl styler, and the Farmacy honeymoon glow aha resurfacing night serum – here is our take.
---
Juice Beauty – Stem Cellular Anti-Wrinkle Eye Treatment

Retail Pricing: $55.00 (US), $65.00 (CA)
Where to buy: Juice Beauty, Sephora, Ulta
The Juice Beauty stem cellular anti-wrinkle eye treatment is designed to reduce the appearance of fine lines and lighten dark circles around the eyes. The rich formula delivers intense hydration and is intended for use on all skin types. This organic anti-wrinkle eye cream is formulated with fruit stem cells and natural ingredients such as jojoba oil, shea butter, as well as Vitamins C, E, and B5. It also contains fatty acids from primrose, borage, and linseed. The eye cream is cruelty-free, and it is formulated without the use of parabens, petroleum, propylene or butylene glycol, sodium lauryl sulfates, pesticides, phthalates, artificial dyes or synthetic fragrances. The product comes in a tall silver cylinder with a pushdown nozzle that releases the product, it contains 0.5 oz/ 15 ml of product.
Here's Moira's YBB Rating For Mature Skin
Dark circles have always been a consideration for me when picking an eye cream. As I get older, they become more noticeable, so when I received the Juice Beauty Stem Cellular Anti-wrinkle Eye Treatment in my November BoxyCharm box, I was very excited to try it. The cream has a medium-thick consistency that doesn't feel heavy, and it has little to no scent. It has a non-greasy texture that absorbs fairly quickly into your skin. The eye treatment doesn't appear shiny when applied, and it leaves your under eye area feeling very hydrated throughout the day. I tested the eye cream for a three week period, in that time, I noticed a slight improvement in the appearance of the fine lines around my eyes and my dark circles. I would say this product would work well for all skin types, it's very hydrating but not greasy, as mentioned. The only downside to the product is the packaging; It comes in a silver cylinder that prevents you from seeing how much product is actually in the container. I prefer products that come in clear containers because I can tell if I got my money's worth. For this reason, I can only say it has decent value for the price. 
Consistency: Medium thickness 
Scent: No scent 
Feel: Lightweight, non-greasy, very hydrating 
Results: Slight improvement of fine lines and dark circles 
Skin types: All skin types 
Value: Decent value 
Worked as expected: Yes
Pros: Non-greasy, lightweight, goes on smooth and feels smooth, non-scented, you don't need much
Cons: A bit pricey, you can't tell how much product is in the container, you don't really know how much you actually got.
YBB Rating 4.5 out of 5
Here's Natassia's YBB Rating For Youthful Skin
I received the Juice Beauty stem cellular anti-wrinkle eye treatment in my November BoxyCharm box. I will admit at first I was a bit skeptical that it could actually reduce the appearance of dark circles, but after four weeks of use, my dark circles actually looked lighter. I would describe the consistency of this eye cream as a slightly thicker lotion, it has a clear color with no scent. The eye treatment applies very smoothly and leaves my under-eye area feeling hydrated all day. I was definitely pleasantly surprised with the results of this eye cream and I will definitely buy it again. The only downside to this product is that it comes in a silver plastic cylinder that doesn't show how much product it contains. I'm typically partial to products that come in clear containers so I can see how much product is actually in it. I will also mention that it is a bit pricey, but the results even the playing field.
Consistency: Slightly thicker lotion
Scent: No real scent 
Feel: Hydrating, smooth application 
Results: Lightened dark circles, softer skin
Skin types: All skin types 
Value: Decent value 
Worked as expected: Better than expected 
Pros: lightweight, hydrating, actually lightens dark circles 
Cons: A bit pricey, can't tell how much product is actually in the container 

YBB Rating 5 out of 5 
---