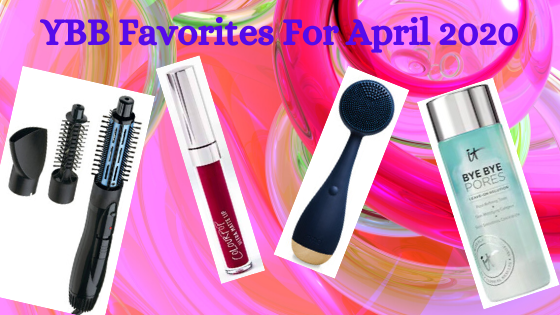 YBB Monthly Favorites
YBB Favorites For April 2020
By |
---
Colourpop – Ultra Matte Liquid Lipsticks

Retail Pricing: $7.00 (US), $10.00 (CA)
Where to buy: Colourpop, Amazon
The Colourpop ultra-matte liquid lipsticks have a smooth, lightweight formula that provides intense color payoff. These ultra-matte finish lipsticks offer a kiss-proof, no transfer wear that is comfortable all day. Available in 26 colors, the Colourpop ultra-matte liquid lipsticks come in a clear plastic tube with a standard doe-foot applicator.
Here's Moira's YBB Rating for mature skin 
In my opinion, the Colourpop ultra-matte liquid lipsticks stand up to any of the high priced brands. The formula is pretty impressive, they are lightweight, and the color pay off is amazing considering the fact that it is not an expensive brand. These lipsticks have zero transfer, and they wear beautifully all day. Even when you eat, they don't wear off much if at all, and the price just can't be beat. They are a little bit drying, but that can easily be fixed by putting on a tiny bit of lip balm before applying the lipstick. I find they wear the best if you apply a thin to medium coat; if you apply them too thick, they tend to feel drier. Either way, I have nothing but good things to say about the Colourpop ultra-matte liquid lipsticks.
Finish: Matte
Color payoff: Impressive color payoff
Feel: Lightweight, not super drying
Transfer: No transfer
Lasting power: Lasts the whole day
Value: Amazing value for the price
Worked as expected: Better than expected
Pros: Amazing color payoff, great price, lightweight
Cons: None

YBB Rating 5 out of 5
Here's Natassia's YBB Rating for youthful skin
If you're looking for a good quality and affordable liquid lipstick, then you should definitely try the Colourpop ultra-matte liquid lipsticks. They have a lightweight comfortable feel that doesn't feather, transfer, or crack. These lipsticks are very pigmented, and only a little bit drying. I found a good trick to prevent them from feeling dry is to apply a lip balm or lipstick primer that is hydrating before applying lipstick. The Colourpop ultra-matte lipsticks wear all day, and even if you eat, they only wear off minimally. The only tip I would point out is that these lipsticks tend to dry a little bit darker than they appear when they're wet, so I recommend checking out swatches before picking out a color. The only downside is that you can't purchase these lipsticks in Canada, so you will have to order them from the Colourpop website. I highly recommend these lipsticks if you are on a budget, but you want a good quality liquid lipstick.
Finish: Matte
Color payoff: Very pigmented
Feel: A bit drying, but still comfortable
Transfer: No transfer
Lasting power: All day wear
Value: Amazing value for the price
Worked as expected: Better than expected
Pros: Amazing price, good color payoff, available in 25 colors
Cons: Can only purchase on Colourpop's website if you live in Canada, a bit drying

YBB Rating 5 out of 5