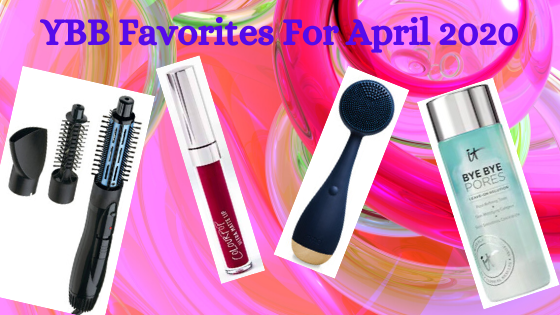 YBB Monthly Favorites
YBB Favorites For April 2020
By |
Hey, beauties, we're back with our favorite beauty products for the month of April. For our April YBB monthly faves, we tested the PMD Clean Facial Cleansing Device, Colourpop Ultra Matte Liquid Lipsticks, Conair 3-in-1 Tourmaline Ceramic Hot Air Brush Combo Kit, and the IT Cosmetics Bye Bye Pores Leave-On Solution Pore-Refining Toner – here is our take.
---
PMD – Clean Facial Cleansing Device 

Retail Pricing: $99 (US), 
Where to buy: PMD, Amazon, Sephora, Ulta, Nordstrom 
The PMD Clean is a silicone facial cleansing device. This smart cleansing device is designed with SonicGlow™ technology that operates with the perfect frequency of vibrations (7,000 vibrations per minute) to give skin a deep cleanse. It has 4 settings, comes in 9 vibrant colors, and operates off a single AA battery. The PMD Clean is also designed to tone problem areas of the face, minimize the appearance of blackheads, reduce oil production, lift, and firm skin. The unique Clean device is made of hygienic-silicone that is hypoallergenic, waterproof, antibacterial, and odor-resistant.
Here's Moira's YBB Rating for dry, mature skin
Face scrubbers can be expensive, I received the PMD clean smart device in a Boxycharm subscription box. While I already have the Clarisonic face scrubber, I was still excited to give this cleansing brush a try. The silicone bristles are extremely soft, and the vibrations the brush makes are also very gentle. If you're someone with sensitive skin, this brush might be a good option for you, it is not irritating. I would definitely say this face cleansing brush would work for any skin type. When I use the PMD clean device, my skin feels very clean and super soft and smooth. The quality of the silicone used to make the scrubber brush is pretty good, it doesn't feel cheap, and it is definitely more sturdy than it looks. The PMD clean device does come with a small plastic stand, it's not the most sturdy stand, but it does the job. The only issue I have is that the device doesn't come with a cover for the brush head, so dirt can get onto the brush head when you're not using it. I also feel that for $100, it would be nice if it came with a cover for the brush head at that price. I think it should be priced closer to $70 or $80.
Feel: Bristles and vibrations are gentle, not irritating
Results: Face felt smooth and clean
Skin types: All skin types
Quality: Good grade of silicone, feels more sturdy than it looks
Value: Decent value, should be priced around $70 or $80
Worked as expected: Yes
Pros: Gentle bristles and vibrations, skin feels smooth
Cons: For the price, it should come with a cover for the brush
YBB Rating 4 out of 5
Here's Natassia's YBB Rating for combination to oily youthful skin
I was very excited to receive the PMD clean device in my Boxycharm subscription. It has gentle silicone bristles, with 4 vibration settings. The bristles are extremely soft so they won't irritate your skin, and the vibrations are gentle enough that it would work for all skin types. I found when I used the clean device, my skin did feel clean and soft with no signs of irritation. If you have oily skin like me, then you know that some face scrubbers can be too rough and cause excess oil production. I didn't experience any issues with excess oil production when using this cleansing device. The quality of the silicon used for this device is actually pretty good. I would say it's a pretty good value for the price, seeing as most cleansing brushes are quite expensive. The only downside is that the PMD clean device doesn't come with the cover for the brush head. If you have pets like me, you know that pet hairs tend to drift in the air. Due to this, I have to store it in a drawer to prevent hairs and dust from getting onto the brush head. If you can't afford one of the Clarisonic spin brushes, this is definitely a runner-up.
Feel: Very soothing, gentle vibrations, soft silicone bristles
Results: Skin feels clean, with zero irritation
Skin types: All skin types
Quality: Great quality materials used
Value: Good value for the price
Worked as expected: Better than expected
Pros: Reasonable price, quality materials, skin feels clean and soothed
Cons: Would be nice if it had a cover for the brush, a bit pricey
YBB Rating 4.5 out of 5