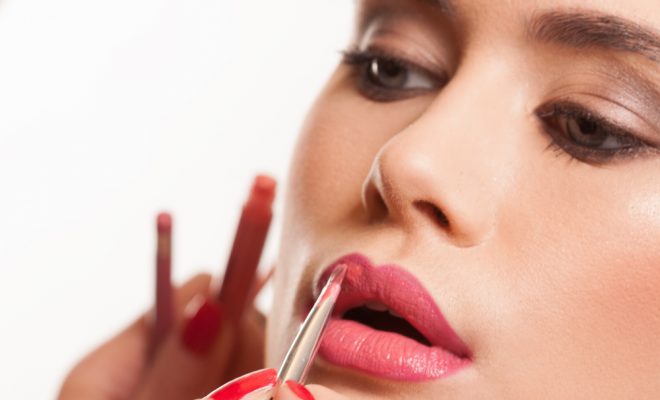 Lips
Learning About Lip Products
By |
As an avid lip product junkie, my collection of lip products far surpasses the number of shoes I own. There is always a new lipstick or lip plumper on the market that catches my eye. So let's begin this guide with a quick definition of what a lip product is. Lip products that classify as makeup are designed for application on the lips to enhance, accentuate or alter their appearance. Now that we know what they are intended for let's discuss what products they encompass.
What do Lip Products Encompass?
Lip products come in several forms, cream, liquid, oil, pencils, and scrubs depending on their purpose. They also come in a number of finishes and colors. Lip products are typically intended for use on the lips, but some people use certain products on other areas of the face. The application of lip products differs based on the product, they can be applied with a doe foot applicator, a brush, our fingers or by directly applying the product to or lips. The ingredients used in lip products can include natural substances such as essential oils or beeswax. Alternatively, they can also include artificial and synthetic ingredients or a combination.
Different Lip Products
Lip Pencils
Are applied to the border of the lips or all over the lips to define and accentuate the shape of the lips. Some people use lip pencils as an eyeliner. Lip pencils are available in a lot of colors and can be worn in combination with other lip products such as lipsticks or glosses.
Lipsticks
Are designed to deposit color onto the lips or to add texture. They can be applied directly to the lips or with a lip brush. Lipsticks come in every color under the sun and several different finishes such a matte, gloss, satin and luster. There are three forms lipsticks come in stick, cream, and liquid. Typically liquid lipsticks stay on longer than the other forms, some can last all day.
Lip Stains
Are also designed to deposit pigment to the lips, however, they work a bit differently. Initially, when applied they appear more pigmented, but once the excess product wears off, they leave a more natural stain to the lips. Lip stains come in liquid form, and they are usually waterproof with a gel or water base. Application of lip stains can be done with a doe foot applicator, a roller bottle or with fingers. Lip stains can also come in a variety of colors, but it is common for them to come pinks and reds to replicate the natural color of the lips.
Lip Glosses
Add a shine to the lips, they are designed to moisturize the lips or add a tint to the lips. Glosses can come in different colors, some have sparkles or shimmer in them and some have a pearlescent appearance. They can be worn alone or overtop of a lipstick or lip liner to create the appearance of fuller lips. Lip glosses can also come in different scents for an added bonus. There is nothing worse than a beautiful gloss that smells awful. Lip glosses are applied all over the lips with a doe foot applicator, roller bottle or with the fingers.
Lip Plumpers
Are a lot like lip glosses, they come in liquid form, they add shine and moisture to the lips, and they can come in different translucent colors. The one major difference between lip glosses and plumpers is that lip plumpers contain ingredients like cinnamon, menthol, or chili pepper oil to mildly irritate the lips. By doing this, the blood in the surrounding tissue rushes to the lips temporarily creating more volume and the appearance of larger lips. When applied lip plumpers can create a tingling or mild stinging sensation. Plumpers can be applied to the lips with a doe foot applicator, with fingers or directly if in the form of a stick.
Lip Primers
Are designed to create a base for other lip products to help them wear longer or to wash out the color of lips that are more pigmented. Some primers can also add moisture to prevent the lips from drying out when long stay lipsticks are applied. They come in stick, cream, and liquid form. Lip primers typically have a light or translucent color to match all skin tones and to allow the true color of other lip products to show better. The application can be done in the usual three ways.
Lip Oils
Come in liquid form only, they are designed to moisturize the lips. Some lip oils have a light tint to them, and they are often infused with essential oils to amplify the moisturizing properties as well as add a scent. Lip oils can be applied in the usual three ways.
Lip Treatments and Balms
Are designed to treat dry or chapped lips and improve the condition of the skin. Some lip treatments or balms have a tint to add some color and a nice scent. The ingredients can be natural, synthetic or a combination of both. They can be applied in the usual three methods.
Lip Exfoliators
Are essentially the same as a body scrub except they have smaller granules to prevent damage to the lips. Most lips scrubs are made with sugar crystals, so they dissolve and don't taste bad. Lip exfoliators help rub dry skin off the lips to reveal soft lips ready for lipstick application. Most lip scrubs have a pleasant scent to them. Lip scrubs are meant to be rubbed on the lips and removed prior to application of other lip products.
Having an understanding of the purpose of a lip product can help you pick the right product for your skin tone or needs. Looking to improve your understanding of face-related products? Check out our guide of the fundamentals of face makeup!

SHOP TOP DEALS                            SHOP SEASONAL PROMOTIONS
Super busy? That's ok, just sign up for our newsletter to get more beauty tips and product deals sent straight to your email.