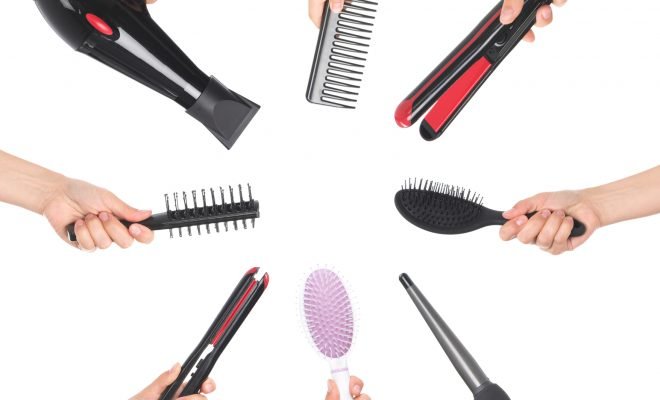 Hair Tools
Hair Styling Tools 101
By |
Flat Irons
Use heat to straighten your hair, they have two flat plates that heat up to essentially iron out your hair. To accomplish this, simply place a one-inch piece of hair in between the plates, clamp the plates together lightly (to avoid tugging or pulling out your hair) at the root and slide the iron down the length of the hair. Most flat irons come with a range of heat settings and some even come with an auto-off setting in case your forgetful. For people with fine, damaged or color treated hair, do not use a temperature setting higher than 300 degrees, If you have normal, healthy, or curly hair, you can go as high as 365 degrees.
Why 365 degrees? Because researchers have indicated that exceeding this temperature can cause irreparable damage to your hair. Once you get to 400 degrees the keratin proteins your hair is composed of will begin to melt. If you stick to the 365-degree rule you can still straighten your hair, reduce the number of times you have to go over your hair with the iron and maintain some of the moisture and shine in your hair. The final note to make is, do NOT flat iron your hair while it is wet or moist, you will fry your hair. If you see steam coming off your hair, you are frying your hair, that is a sign to stop.
Blow Dryers
Serve different functions, they blow air on our hair to dry it faster, and when used with a round brush or boar hair brush can help straighten your hair. If you plan to straighten your hair with a flat iron and you don't have enough time to wait for your hair to air dry, use a blow dryer to speed up the process. Blow dryers can come with different heating options from cold to hot and different airspeeds from low to high. It is always best to use the low or medium heat setting to avoid damaging your hair and always use a thermal protection product. Most blow dryers also come with different attachments such as a diffuser (used to dry curls without disturbing the curl pattern) or a flat head attachment (used to direct the air in a flat, narrow path, ideal for straightening with a round brush). Some blow dryers come with a brush attachment to simulate using a round brush, by blowing air through holes in the brush.